Domestic Industry Leading! OFILM's Automotive Grade 8M COB package passed AEC-Q certification
Release time:2023-05-05
Driven by the "new four modernizations" of electrification, networking, intellectualization, and sharing, AI in the automotive industry is rapidly developing and experiencing explosive growth in an all areas. According to data from Strategy Analytics, the global smart car market reached US$1.2 trillion in 2022 and it is expected to grow to US$1.8 trillion by 2025. China is the largest smart car market in the world, accounting for more than 40% of the market.
On-board cameras, as one of the core sensors in intelligent driving vision solutions, are experiencing an acceleration in demand. In order to create differentiated competitive strength, automakers have increased their smart configurations and innovative upgrades. As a Tier 1 manufacturer in the automotive camera field, OFILM has always focused on advanced technology and continuous technological innovation. OFILM is committed to applying high-precision COB packaging technology to the automotive field.
▼
Relying on its technical advantages in the field of optics and optoelectronics, OFILM began researching and developing automotive-grade COB packaging in 2019. In 2020, OFILM completed the AEC-Q certification for 1M and 2M automotive-grade COB packaging, and achieved mass production of 1M and 2M automotive-grade COB modules in 2021. In addition, in December 2022, customers designated 3M's automotive-grade COB package for use in their vehicles, recognizing its high quality and reliability.
Recently, OFILM, as a Tier 1 manufacturer of on-board cameras, takes the lead in passing AEC-Q certification for automotive grade 8M COB packaging. This certification has been recognized by mainstream automakers, and OFILM is leading the industry in this achievement. This marks that OFILM has mastered the automotive grade COB packaging technology of the ADAS domain vision camera scheme and is able to provide customers with higher-precision on-board camera solutions.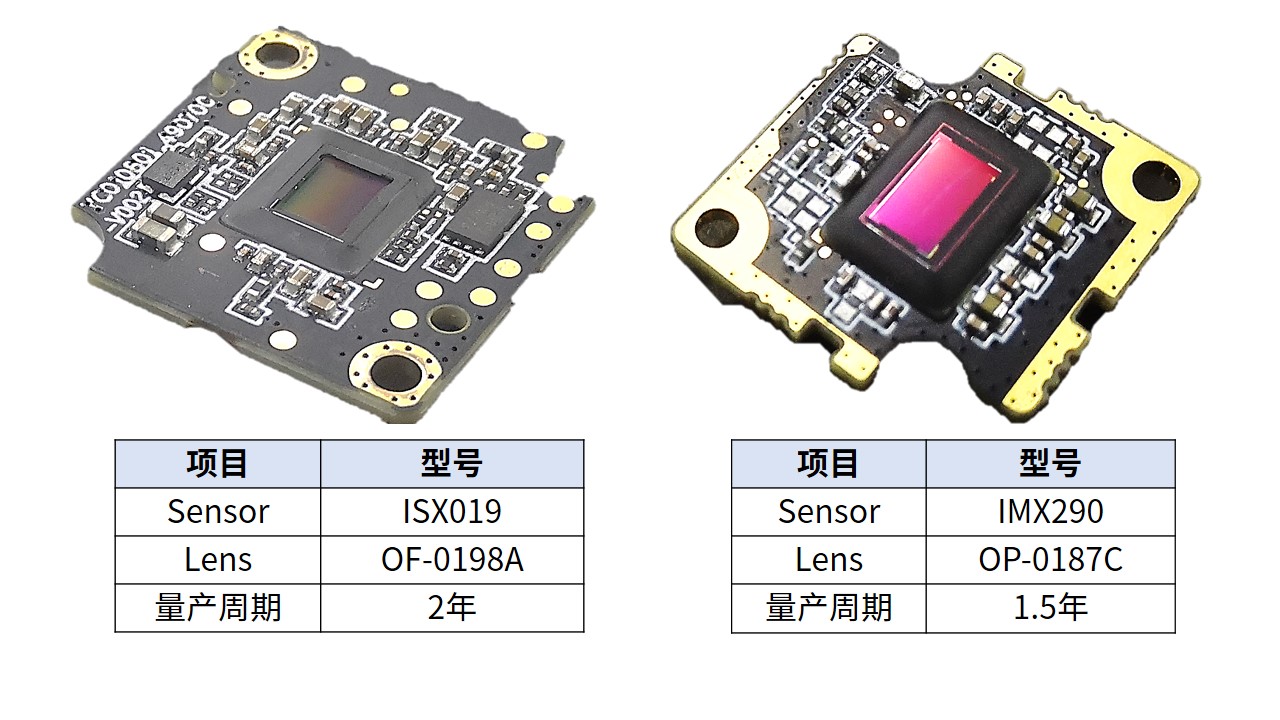 ▲OFIM's COB products
The significance of AEC-Q series certification
The automotive quality management system involves multiple roles, including the supply chain, module factory, automaker, and component factory. Only by collaborating with each other can achieve the final goal of "zero failure". One of the key factors is the Automotive Electronics Committee (AEC), which sets the standards for general parts qualification and quality systems. The AEC requires that electronic components for automobiles meet specific quality standards to ensure that they can function properly in the vehicle. When semiconductor chip products are introduced into the automotive market, they have to complete the verification and testing process required by the AEC-Q series standards.

The COB packaging process started in the consumer electronics field. If it is to be applied in the automotive field, the reliability must meet or exceed the performance of CSP/BGA packaging, and it must pass the AEC-Q series of test certification.
The AEC-Q certification of OFILM's automotive grade 8M COB packaging further affirms the reliability and stability of its automotive grade COB packaging technology. This also means that major automakers can now choose OFILM's higher-precision and highly reliable automotive camera modules for ADAS domain visual camera solutions.
Advantages of OFILM's GOS packaging technology
Automotive CIS is generally packaged using BGA/CSP/LGA. The camera module manufacturers need to purchase packaged chips produced by wafer packaging and testing factories, and then use SMT process to fix them on the circuit board with solder paste/balls.
OFILM's leading automotive grade COB packaging technology, named GOS (Glass on Sensor) packaging, has revolutionized the traditional supply chain model. With this technology, OFILM can provide customers with high-quality modules that are small in module size, high in reliability, high in precision, and have excellent heat dissipation. By requiring only Bare DIE from chip makers, OFILM can package them using its GOS packaging process to significantly reduce delivery times and provide more efficient supply chain processes.
Furthermore, with regards to packaging technology innovation, OFILM's GOS packaging has successfully overcome technical challenges such as "structure stress matching, water vapor insulation and sealing, high strength aging resistance, and ion migration." OFILM has also completed the relevant technology patent strategy and continues to expand in this field.
▼
 Short delivery cycle: By integrating the chip packaging process into the module production process, the chip delivery cycle can be shortened by 1-2 months.
 High reliability: Meets the requirements of AEC-Q certification and DV/PV module reliability.
 High precision: The packaging precision has been improved from SMT at a 100um level to COB at a 10um level, which has resulted in a significant improvement in calibration accuracy.
 High thermal conductivity: The larger chip bonding surface of COB effectively improves heat dissipation performance compared to SMT dispersed solder point contact.
 Small size: The structure achieves miniaturization by realizing the integration of sensor and PCBA surface contact packaging.

As of now, OFILM has successfully completed the development of the first-generation dispensing-type GOS packaging and put it into mass production. The products involve different applications inside and outside the cab, including CMOS, MEMS, and LiDar sensors. Meanwhile, to meet the requirements of customers with different packaging forms, OFILM is developing the second-generation GOS packaging, injection molding type. The injection molding packaging can better match integrated lenses, with characteristics of improving efficiency, reducing costs, and better heat dissipation.
BACK